Who we are - Caring you in a better way
Annamalai Hospital is an ISO 9001:2008 Certified Multi Specialty Hospital established in 1977 at West Mambalam. Annamalai Hospital having a vision in providing dedicated quality health care service , where personalised Medicare meets modern technology, and where the cream of specialists come together to fulfill a wide range of medical requirements. The first of its kind in this part of Chennai to have all state of the art facilities.
The Leader 
Presently, it is managed by Dr.Ramnath Annamalai as Chief Managing Director
Doctor's Profile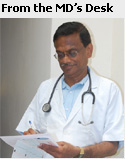 Late Dr.Annamalai
Late Dr.Annamalai is a well experienced general physician with more than 30 years of experience in Medical Field. Late Dr.Annamalai is not only a clinical expert but also have a caring and humanitarian attitude.
Quality does not happen by chance. It is a relentless pursuit of perfection.Each one of us at Annamalai Hospital will endeavor to provide the highest quality of care to our patients. Beyond the wonderful ambience, advanced technology and professional expertise at Annamalai Hospital, there is something more... the magic touch of caring.


Dr.Ramnath
Dr.Ramnath is an Orthopedist and Trauma Surgeon specialized in joint replacement surgery with wide overseas experience. Dr.Ramnath is a humble and caring person with a smile on his face always.
Mission
Our mission is to improve the health and well being of the people in our country
Vision
Our vision is to improve the health and well being of our country by providing an innovative, proactive, professional and high quality service that promotes partnerships with our community and a supportive, nurturing environment
Guiding values and principles
Our underlying principles are; teamwork and cooperation, honesty, leadership and the development of a customer delight culture.
We believe that it is important to provide a high quality service, to promote a learning environment, to be supportive of each other, and to behave in a professional manner at all times.We recognize our strengths and talents as being good communicators, being reliable, conscientious and innovative.
We strive to be a team that is recognized by being; high performing; proactive and committed to our work.
Quality Policy
We at Annamalai Hospital strive for the welfare of the patients, work time and again to end the sufferings of the needy patients, be supportive and caring to them. We will make ourselves committed in giving the best care to the patient and to relieve them from their ailments
Quality Objectives
To upgrade & evolve in time in terms of technology, techniques, approach & consistency in results as per international quality standards.
To ensure that hospital staff is keeping good health (Periodical health check – ups & regular vaccination) To minimize the patients complaints
Our Future
Expansion to a 100 bedded hospital
Plans of starting branches all over the Chennai City
Tie-up with Corporate
Low cost affordable treatment to all
Training Session for medical personnel